Domain Name Registration Vs Web Hosting
Domain Name Registration A domain name is the location of your website that people type
Domain Name Registration
A domain name is the location of your website that people type in the browser's URL bar to visit your website. There is a lot of space which is a way by which people can search the position on the map, domain names enable people to search websites. Your domain name is a user-friendly name that visitors type into the browser address bar to visit your site.
To understand what a domain name is, think of it as two elements:
Web Address 

IP Address
 Web Address
The web address is a character with words (i.e. www.webname.com). Websites are called in such a way that they are easy for people to remember and identify.
IP Address
It is a number-based address (eg 19.140.230.20) that computers use to interact with each other on the Internet. All hard content is in the background, including the domain's IP address.
Types of Domain Name Registration
Five types of domain name registration: –
Top-Level Domain (TLD)
Country Code Top Level Domains (ccTLDs)
Common Top-Level Domain (gTLD)
Second level domain
Third-level domain
1.

Top-Level Domains (TLDs)
Top-level domains are at the top of the Internet sequence of domain names. You usually refer to these as top-level domains (TLDs). Thousands of Top-Level domains (TLDs) are available. In recent years ICANN has introduced new TLD registrations and permits, so that businesses and individuals can enter unique TLDs. This provided the number of top-level domains.
Now I am sharing here some popular extensions of top level domains:

.com

.net

.edu

.org
2.

Country Code Top-Level Domains (ccTLDs)
Next, in the list, we have the country code top-level domain (ccTLDs). As the name suggests, these are technically linked to different countries. Each country has its own separate ccTLD, but you have to use one, just because you live in a particular country. The country code top level domain (ccTLD) represents particular geographic locations. for example-. The United Kingdom is over-represented. Represents the European Union.
3.

Generic Top-Level Domains (gTLDs)

 
A common top-level domain (gTLD) is the top-level domain name of an Internet address, which distinguishes it from some domain classes, such as .com, .net, .org, .gov, .edu, etc. This is more than the definition of an exact type of domain. This is just another change of TLDs, as the description suggests. Therefore, you can technically analyze this type of domain as a TLD.
4.

Second-Level Domains
The second level domain TLD is explained in terms of sequence. This does not mean that they are no less authentic or valuable. Instead, it interprets the second part of the domain name, such as NexaHost '.com www.nexahost.com. These country codes are also second level domains (ccSLDs). In such situations, the second level domain would be to the right of the word; For example, in domains such as puma.co.ca, the country code is the top-level domain .ca and ccLDs are co.
5.

Third-Level Domains
Third-level domains are under the second-level domain in the domain name sequence. They are not in themselves a complete part of a domain name.
For example, in the domain name "www.nexahost.com", 'www' would be the third level domain. Or, if you are using a subdomain to create an additional section of your site, it will also be a third level domain.
How Do Domain Names Work?
Domain names are important, as they allow the computer to find the server where your website is hosted. Website data can then be retrieved from a server that allows users to access your site on their browser.
All domains have at least two name servers such as NS1.EXAMPLE.COM and NS2.EXAMPLE.COM
For example- If your website is hosted on NexaHost, the server information for its name would be as follows:
ns1.nexahost.com
ns2.nexahost.com
Those name servers are computers controlled by your hosting company. Your hosting company will send your request to the computer where your website is stored.
This computer machine is called a web server. Unique software has been installed in it. The web server now receives parts of the web page and information associated with it. Finally, it then transfers this data back to the browser.
Web Hosting
Hosting is the process of serving and maintaining one or more websites called servers on a particular website.
Web hosting is a service that enables companies and individuals to post a website or web page on the Internet. A web host, or web hosting service provider, is a company that gives the technologies and services needed for a website or webpage viewed on the Internet.
Websites are hosted or stored on special computers called servers. When Internet users want to see your website, all they need to do is type their website address or domain in their browser. Their computer will then connect to your server and your webpages will be presented to them by the browser.
Types of Web Hosting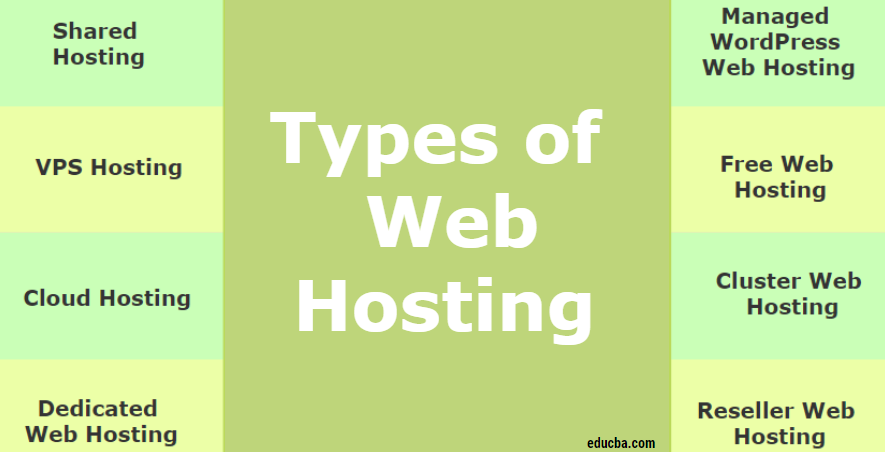 There are several types of web hosting which are as follows: –
Shared Hosting

VPS Hosting

Cloud Hosting

Dedicated Web Hosting

Managed WordPress Web Hosting
1.

Shared Hosting
This is an excellent hosting for entry level hosting. In this, your websites will be stored in a single server with different websites, which will be anywhere in the range of hundred or thousand. Typically, when most people start an online business, they start with a shared hosting plan to reduce costs, similar server resources such as RAM and CPU are used for all domains but for this Hosting is not required. The cost is very low.
2.

VPS Hosting
This is for virtual private servers. VPS hosting is one of the varieties of internet hosting accounts that you can choose for online hosting. To create a website on the Internet, you must have your database record on a webserver. Those physical servers are typically divided into separate or shared VPS servers.
3.

Cloud Hosting
Cloud hosting lets a service provider by servicing its infrastructure in a utility model to outsource the computing and storage resources of the industry. There is no physical thing in the cloud that you can show and name as a cloud. As there is no physical server with cloud hosting, you can tell that it is a cloud host.
4.

Dedicated Web Hosting
Dedicated web hosting means your payment for a single server which means that the viewer does not have a separate webpage. This means that it is completely under the control of the site owner, even the owner has access to the root. Due to the huge traffic, people use this dedicated web hosting. This means that if you plan to use dedicated web hosting, it means that you must know how to use and manage the server.
5.

Managed WordPress Web Hosting
Managed WordPress web hosting only works for WordPress. Your host manages everything instead of using cPanel, Plesk etc. This type of plan is for those who do not like all the technical things that come with web hosting.
How They Work Together
The relationship between domain name, website and web hosting is linear, but it is necessary for all to be accessible by a website visitors. The first part works when a user types in the domain name of a website in their browser. The browser is then communicated to the website that sits on the web hosting service provider.
Technically, the domain name request first goes to the hosting provider's server, which calls the necessary resources from your website and then shows it to the visitor.
The difference between the two is obvious. Web hosts provide a service that provides you with virtual storage for all your web content, remember the comparison, it's a home for all your important stuff, while being as simple as a domain name , The name means this is the identity of your site, the address of a brand. Remember to choose wisely and stay current events.
For more related information, than you can check out vmayo.
What's Your Reaction?