Top 5 AI Technologies Trends for 2021
AI Technologies Trends 2021 Artificial intelligence is one of the fastest running and least expected
AI Technologies Trends 2021
Artificial intelligence is one of the fastest running and least expected occupations. Artificial intelligence (AI) has the unique ability to amaze, entice and intimidate simultaneously. Thus the possibilities of AI are countless and beyond the scope of our imagination.
Artificial intelligence has become a lengthy process and was one of the developing fields in 2019. Over the past few years, we have seen a growing number of AI-based platforms, applications and devices that mimic the developers and expert human brains. We are confident that in 2021, AI will come out of the experiment platform for implementation and business will make intensive investments to incorporate AI into business applications.
Top 5 AI Trends for 2021
The top 5 AI Technologies trends for 2021 are: –
1. Robotics Process Automation
Robotic Process Automation (RPA) is a simple AI technique. Terminology used for software tools that partially or fully automates human movements that are manual, rule-based, and repeated. All work by mimicking the activities of a real human, interacting with one or more software applications to perform tasks such as data entry, process standard transactions or answering simple customer service queries. In fact, the "chatbot" that began to be universal on websites is almost always a robotic process automation tool, not a human.
Robotic process automation is a type of software robot that can perform those manual repetitive tasks. Using the example above, an RPA mechanism will read emails, open attachments, copy data to one CRM, receive data from another database, and also send email replies. If human intervention is required, the RPA will notify the worker to step in. In short, RPA removes common tasks and frees people for more interesting work.
2. AI for Manufacturing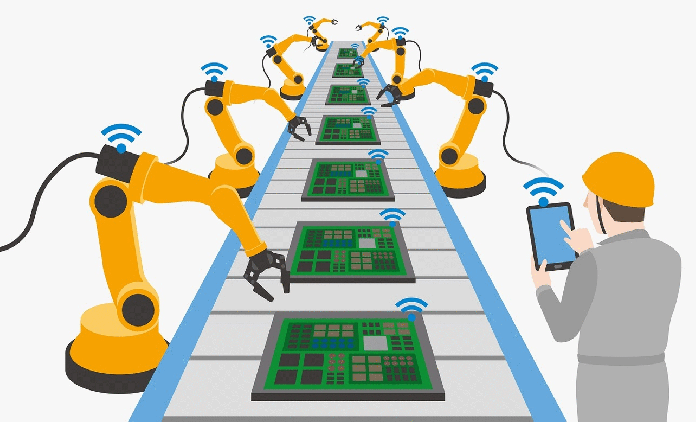 The AI ​​trend in 2021 has resulted in a separate manufacturing revolution for the manufacturing sector. Thus more and more representatives spend developing artificial intelligence to open up new insights and increase their competitiveness in a complex global market. About 85% of businessmen expect AI trends to allow them to reach new or save their existing competitive advantages.
Currently, the technological innovations authorized for the trend of artificial intelligence extend to manufacturing and expanding their production lines, dealing with big data, optimizing workflows, and improving quality. Secure Server Hosting, VPS Hosting India, Domain Registration, Web Hosting, Web Hosting Service Provider, Cloud Service Hosting, Private Cloud, Cheap Blog Hosting.
3. Artificial Intelligence in AR and VR
Augmented reality and virtual reality open up a lot of potential for better flooding in fully rendered situations. Therefore in order to modernize this innovation progressively, a better idea has to be provided when mapping and creating those conditions.
Before headsets are complex for horizontal and vertical planes, however, with AI this is currently a possibility. Furthermore, it is not simply constrained on it. For example, with the support of AI, you can get progressively accurate in-depth research while performing medical procedures. In addition, the device will immediately make precise changes according to the guaranteed ideal results.
4. Promoting Cyber Security
Mounting concerns regarding data privacy and security violation have also pointed to questions being raised regarding the security preparedness in the age of AI and IoT. It is calculated that by 2021 across 24 billion devices connected to the internet would be installed. The number of connected devices used in households is predicted to increase from 9 devices per household currently to 500 by 2022, as per the investigation house Gartner.
Improved cloud capability and machine learning trained algorithms will also mean that cyber attacks such as hacking and phishing will be more high-tech and harder to detect. In this case traditional cybercity will be reduced to zero and we will need specialist AI-Bolt cyber security mechanisms to protect individuals from such malicious attacks.
Without using AI, traditional systems will no longer be able to continuously detect and monitor new malware that is built at an unprecedented speed. Large cyber security firms have started using AI for pattern recognition to identify viruses and malware. These new systems can detect at least differences or distortions before malware enters the system. Another advantage of artificial intelligence is that it has the power to perform predictive work.
5. Voice-Centric Apps
Reliable results with conversational AI appear over a longer period of time. With this, customers can share data, compete in the business and connect with a particular brand or program. These possibilities will emerge in 2020 as experts create better approaches to use voice technology.
Smart devices have everything except to maximize their use, yet, another application will introduce fuse voice technology. For example, voice based request frameworks will begin to be used in food delivery applications. In this method, developers must resize their applications so that they remain sound-free and ready by 2020.
For more related information, than you can check out vmayo.
What's Your Reaction?